DIY Ha Long Bay trip for backpackers
If you are going to northern Vietnam most probably you will also plan a trip to one of the most famous attractions in this region, the Ha Long Bay. This place is listed on the UNESCO World Heritage List for its unique avatar-like landscape. The amazing limestone rocks covered by exotic plants and surrounded by azure waters are becoming more and more famous. However, popularity means also high prices and lots of tourist. Backpackers don't like places like that, right? So let's find out how to can organise on one's own a trip to the Ha Long Bay for backpackers: with adventures and on a budget 😉
What will you find in this article?

HOW ORGANISED TRIPS LOOK LIKE AND WHY IT'S NOT WORTH IT?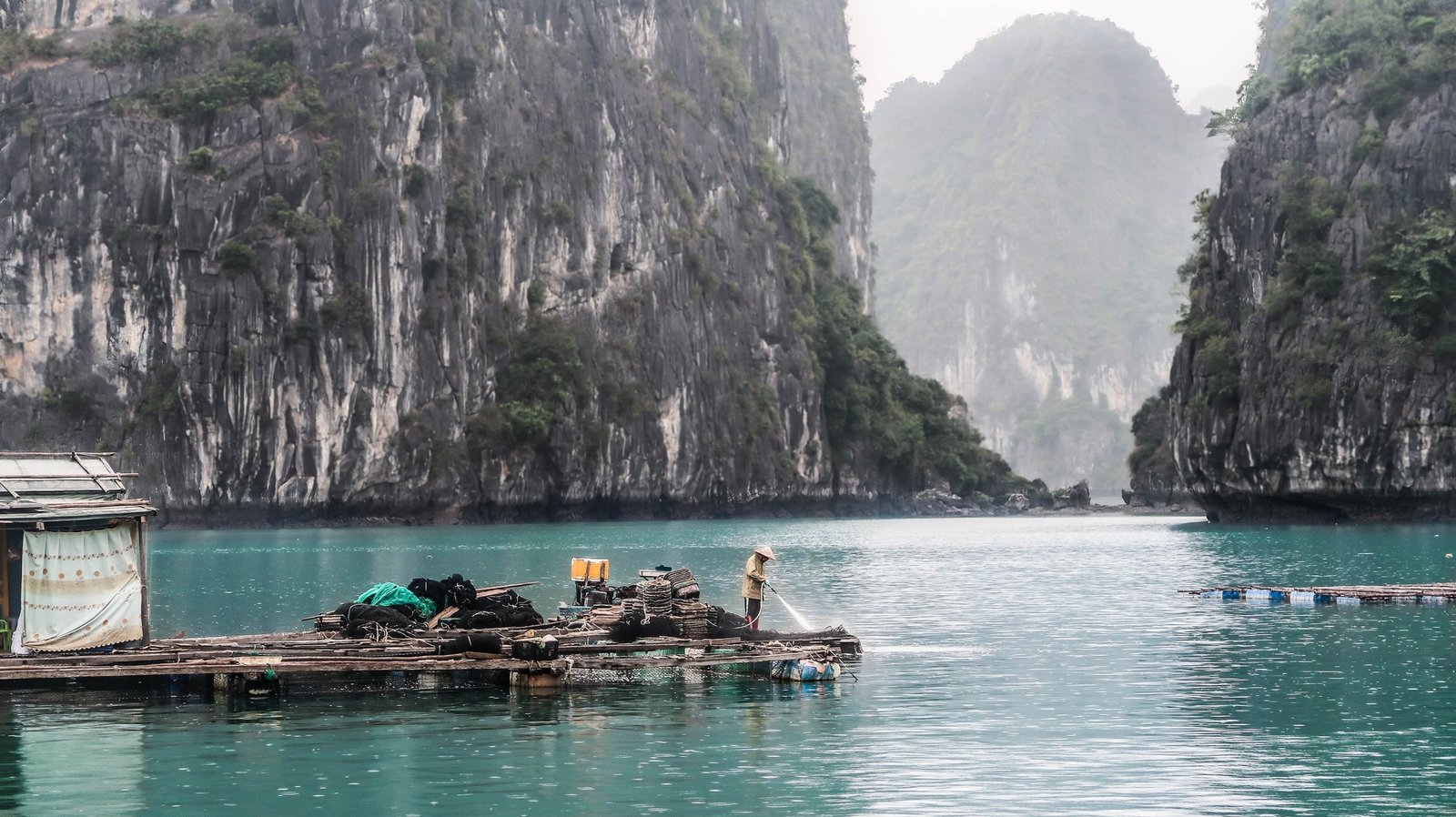 Most people buy trips to Ha Long Bay in Hanoi. The number of offers you can find there is just overwhelming. That's why most people travelling on a budget take what everybody else is taking: a two day trip to the bay. How does it look like? They pick you up in the morning so you can arrive to the Ha Long City at noon. This means first in the afternoon you can enter the boat and you have to leave it the next day after lunch. As a result you will just spend 24h on the boat because the rest of the time you will travel there and back. The price for such a trip in the cheapest version is 80 USD.
This is by far not the worst thing. All organised trips from Hanoi start in the Ha Long City. You have to imagine that hundreds of other people also booked the same trip on the same day and will visit the same places at the same time you will. Believe me even the Ha Long Bay can get crowded. Moreover, the trip includes a night on a boat which mostly is not as nice as it will be promised to you. And if the weather won't be good enough to jump into the water or sunbath it can get very boring, cold and damp. At the end a nice idyllic boat trip can turn out to be a touristic trap.

HOW TO ORGANISE A HA LONG BAY TRIP FOR BACKPACKERS?
Firstly, don't buy the trip in Hanoi! If you didn't then you have to find a way to skip the touristy city of Ha Long. In order to do that you can directly go to the Cat Ba Island. It's an island close to Ha Long Bay with less tourists, good food, cheapest accommodation I found in Vietnam and great parties. This is the DIY guide for a Ha Long Bay trip in backpackers style:
1. You can get to Cat Ba Island very easily from Hanoi. Just buy at you accommodation a ticket to the island. The price is around 230.000 dong and the ticket should include a bus and a ferry to the island. If you will leave early in the morning you will get to the island at noon.
2. As soon as you will get to the island find a place to stay and book the trip to Ha Long Bay for the next day. Most hostels are offering 1 or 2 day boat cruises. Afterwards you can spend the afternoon on the island, go to the beach, watch the sunset on a viewpoint and go for a crazy party in the evening. More information on what to do on Cat Ba Island you will find here.
3. The next day you wake up with a big hangover because you were partying way too long last night. At around 8:00 AM a minibus will come to pick you up and bring you to the harbour. A single day boat trip will end at around 5:00 PM.
4. It is possible to leave the island on the same day if you want to travel to another destination. For example the bus to Ninh Binh was leaving at around 4pm so you would have to leave the boat at around 3:00 PM. Ask if that's possible at the front desk – some people from our group where doing this and the boat brought them back earlier.
5. If you have some more time it's better to stay one more night, chill on Cat Ba Island and go to the next destination the next morning.

HOW MUCH DOES IT COST AND HOW DOES IT LOOK LIKE?
For a one day trip we paid at the Victor Charlie Hostel 300.000 dong, which is around 12 USD. The price included transport from the hostel to the harbour and back, all entry fees to the National Park, all activities and a lunch on the boat (excl. drinks). The price for such a trip was suspiciously low but it turned out to be the best choice we could possible make. More about what to expect from a 12 USD boat trip you will find here.
In the Victor Charlie Hostel you can also buy a 2 day cruise and spend a night on the boat. It includes also a transport to Hanoi or Ninh Binh. We decided against this option because it was way more expensive (120USD) and the weather was not good.

WHY IS IT WORTH TO ORGANISE A TRIP TO HA LONG BAY IN BACKPACKERS STYLE?
You will save money. The boat trips sold on Cat Ba Island are much cheaper than the ones in Hanoi, even if you add the costs of transport, accommodation and food. For the transport to Cat Ba and afterward to Ninh Binh, 2 nights at Victor Charlie Hostel and a 1 day boat trip to Ha Long Bay we paid a total of 40 USD per person.
You will skip the crowds because you will enter the boat before all the tourists from Hanoi arrive in Ha Long City.
You can decided on the spot if you want to take a 1 or 2 day boat trip depending on the weather conditions.
You will have the occasion to visit Cat Ba Island and spend some time in a new and nice place
You don't have to go back to Hanoi. From Cat Ba island you can continue your journey to the next destination.

GOOGLE MAP
Here is a map on which I marked all the important places in Ha Long Bay and on Cat Ba Island: hostel, restaurants, bars, sights, etc. It will help you to plan your trip. By clicking on the star you can save it in your Google Maps Account under Your Places and use it later while travelling. Enjoy!