How to get from Vientiane to Hanoi? – 24h night bus
If you take a look at the map during planning your trip to South East Asia you will have the feeling that the region is quite condensed and you shouldn't have any problem with getting cheap from one place to another. However, as soon as you try to get from let's say Mandalay to Chiang Mai or Vientiane to Hanoi it turns out that it's not so easy and definitely not cheap. 
Mostly it is the case in the mountainous parts of the less developed countries. We had such a situation when we wanted to get from Laos to Vietnam. But finally, we found a cheap, yet not really comfortable way to get from Vientiane to Hanoi.
What will you find in this article?

WHY NOT A PLANE?
There are of course planes that fly from Vientiane to Hanoi. It's the easiest but also the most expensive option. You have to pay for a flight between 90 and 120 USD one way! That's not the price you are expecting when travelling on a budget in SE Asia. Also if you will book earlier and get the better price you are no more flexible when it comes to the schedule of your travel.
If you have enough money and you know exactly when you want to travel from Laos to Vietnam you don't have to read further. Just go and buy the ticket. But if you are searching for a cheaper option, like we were, then keep reading. Soon you will know how we got from Vientiane to Hanoi!

24H NIGHT BUS FROM VIENTIANE TO HANOI
This is the cheapest but at the same time the least comfortable way to travel from Vientiane to Hanoi. Although it's just a distance of 800 km it takes 24 h.  The reason for that is a long stop at the Laos-Vietnam border and a very bad quality of the roads.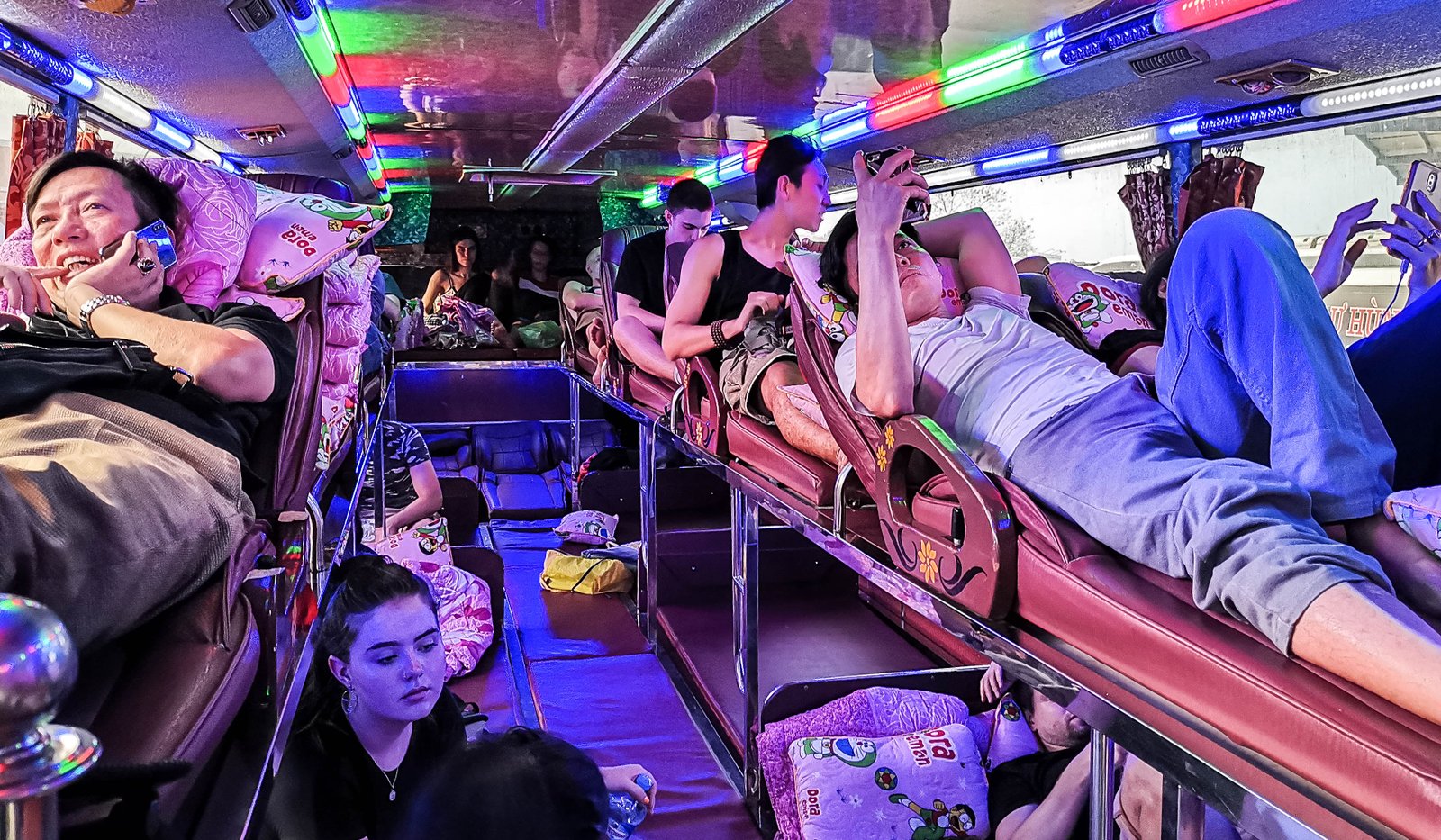 USEFUL INFORMATION:
The price of a ticket is around 190.000 – 230.000 Kip (22-26USD), so it's much cheaper than a plane. The price range is so big because on some days better buses are driving and on some the worst ones. Don't forget to ask about that when buying your ticket. Of course we were 'super lucky' to travel with the less comfortable bus.
The pick-up from you hostel will take place at least 1.5 h before the bus leaves. A songthaew came to pick us up at 5pm and after a while it was so full that people were almost falling out of it… Our bus was leaving at 6:30pm.
It's a sleeping bus so inside you will find mattress and sleeping chairs. In our bus there were boxes with mattress for two people on the floor and laid back chairs above. People taller than 175 cm might have a problem with stretching out there. Anyways, you will spend 24h in a laying or semi-laying position.
It's a good idea to take a sleeping bag liner with you. Thanks to that you won't have to touch the mattress with any part of your body.
There are pillows and quilts in the bus. They were definitely used before by other people so at the beginning it might seem disgusting to use them. But after some time everybody was taking a pillow to lean comfortably back or didn't freeze in the night.
The buses are not only for tourists. If you travel alone it's highly possible that you will have to share your bed with somebody else. It might be also a local person. However, they always make sure women sleep with women and men with men.
In the bus there is a toilet, but every 3-4 hours the driver is making a stop. Some of them are even 30 min. long. Be prepared that many places where you will stop are of very low standard.
In our bus nobody from the staff was talking English. Even the length of breaks was gestured.
The best places you can get are the ones in the front. Why? Because in the back the engine is located, the ventilation is really bad and some additional boxes are put there. Be aware that even if you will win the fight for the places in the front, the staff will anyways ask you to go to the back. Just don't react and stay were you are!
Also don't be confused when your first stop after the bus station will be a big metal hangar without any windows. This is the place where additional boxes are packed into the bus. It can be that these are product that are smuggled from Laos to Vietnam. This is why the bus has more kilos inside than it should. I guess this may also be the cause for many stories about cracked wheels.
The bus is getting to the Laos-Vietnam border at 2am. The border itself opens around 7am so you will have to wait or most probably sleep 5h in the bus. You will find more information about the border crossing process here.
In Hanoi the bus will leave you on a bus station outside of the city centre. From there the best option is to share a taxi with other people from the bus. For 7 people and a 20 min. ride we paid 50.000 dong per person (about 2 USD).

QUALITY OF THE JOURNEY FROM VIENTIANE TO HANOI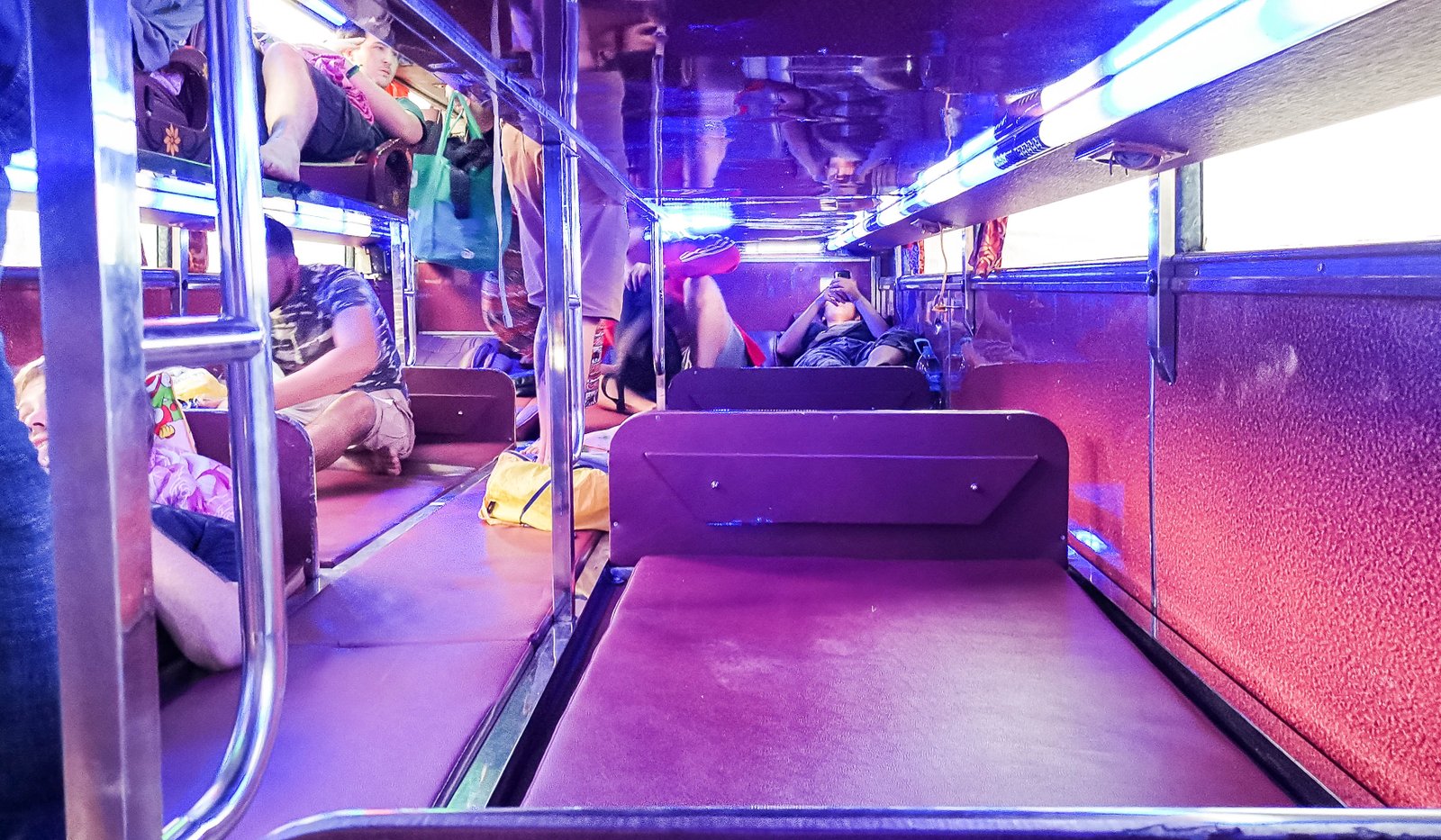 There are a lot of super bad stories about the 24h night bus from Vientiane to Hanoi. Some people are forced to go to the back of the bus, spend the travel with some boxes next to them or even with cockroaches. I read also a story about a couple that had to change the bus because of a wheel crack. The problem was that they had to ride on the floor of another fully packed bus. During our travel, we also had a problem with one wheel. Fortunately, it didn't take long and our bus was ready to continue the journey after 30 min. break. 
At the end of the day, everything depends on your expectations. If you will be mentally well prepared and will expect the worst it will not be so bad 😉
 I used this time for a very much needed regeneration and slept almost the whole journey. Still, this won't change the fact that travelling for 24h in such conditions is exhausting and definitely not comfortable. After all, we were laying for a couple of hours on an old and used by hundreds of other people mattress on the floor of a bus…

Book your bus from Vientiane to Hanoi
While travelling through Asia I booked most of my tickets through 12Go.Asia. They are a local ticket provider. Buying through them might be a tiny little bit more expensive but you don't have to waste your time going to the bus station or a travel agency. I never had a bad experience with them, so I really recommend buying tickets on their website.