Problem with e-visa to Vietnam 2019 – alternative solutions
Before our 2-months trip to South-East Asia, we decided that this time we will be more spontaneous and we won't plan every single day in advance. We just decided on the way where we want to go next. As a result of that, we also didn't know in advance on which day and on which checkpoint we will cross the borders. That's why we had to deal with the visas also on the way.
In most of the SE Asian countries, the visa procedures are pretty easy. Citizens from a lot of European countries don't need any visa to Thailand and to Laos and Cambodia you can mostly just buy one on the border (visa on arrival). Only Vietnam has more restricted visa regulations, which turned out to be problematic for us. 
Why? Because my e-visa to Vietnam wasn't issued on time and there was no way to contact the Immigration Office at all. What to do in such a situation? You will find more information in this article.
What will you find in this article?

E-VISA TO VIETNAM
The easiest way to get a visa to Vietnam is to apply for an e-visa. In 2017 Vietnamese government started a pilot program which allows tourists from 80 countries to apply for the touristic visa online. It should run out at the beginning of 2019 but it was extended for another two years (till Feb 2021). The e-visa allows you to enter the country only once for a maximum of 30 days. Here you will find a list of all countries that take part in the program. The price is 25 USD and it's the cheapest option available.

Official website of the Vietnamese Immigration Office
where you can apply for an e-visa:
E-VISA TO VIETNAM

Before you start filling out the forms prepare a passport photo and a scan of your passport's photo page. You will have to add them to the form. Additionally, you will have to enter the intended day of entry and the checkpoint at which you will cross the border. Here is a list of checkpoints that accept e-visas. At the end, you will get a registration code that allows you to check your visas current status in the search option. Accordingly to the website your visa application should be processed in 3 working days.

WHY DID I HAD A PROBLEM WITH THE E-VISA TO VIETNAM?
At first, I thought that in the application form you have to enter the exact day of entry. Of course, I understand what "intended" means but I couldn't find the information on how many days difference is allowed between the intended day and the exact day of entry. After some time I found the answer in the FAQ: the intended day of entry is the day from which you can enter Vietnam for 30 days. But this wasn't the only problem because anyways I didn't know in advance which checkpoint to choose. There is also no official information available if you can change such checkpoint later or not.
That's why I applied for my e-visa only 5 days before I wanted to enter Vietnam. Theoretically, it should be enough time to get it but it wasn't and my e-visa didn't come after 3 working days. I send my application together with Alex. He got his visa after 24h and I got it after more than a week when we already were in Vietnam. As you can see you can't trust the Vietnamese Immigration Office and the best solution is to apply for the e-visa at least a week in advance. 
Then there is also one other thing that was problematic for me. There is no way to contact the Immigration Office which is responsible for the e-visas. I was sending a lot of e-mails and never got an answer. Not even a short message saying that they are sorry for the inconveniences. Moreover, I was also trying to call them but nobody was picking up.

HOW DID I SOLVED MY PROBLEM WITH E-VISA TO VIETNAM?
EXPRESS VISA SERVICE
When I didn't get my visa after 3 days I got worried and went to the Vietnamese Consulate in Vientiane. Unfortunately, they are not responsible for the e-visas and couldn't give me any information. They could only issue a new visa. The price for a standard visa service is around 50-60 USD and it takes 24h. For an express visa service, you have to pay 90 USD. If you apply for it in the morning you will get the express visa in the afternoon (around 4 pm).
PROMISE
After 5 days I didn't want to lose any more time in Vientiane. Therefore, I decided to find another solution. It turned out that many hotels and hostels have visa services. So I went to the Dream Home Hostel 1 and a nice young lady immediately offered me a solution, namely a promise to Vietnam. It's an invitation to Vietnam that allows you to buy a visa on the border. Normally such a piece of paper costs 25 USD and is ready in around 24h. When you need to get it faster, then you pay 35USD (1 hour) or 45USD (less than 1 hour). Additionally, you will have to pay 25 USD for a visa on the border. I wasn't sure if something like this is legal but I had no problems at the border with it at all. We chose this option because at the hostel they organised also tickets for the bus from Vientiane to Hanoi for us and thanks to that we were able to leave Vietnam on the same day.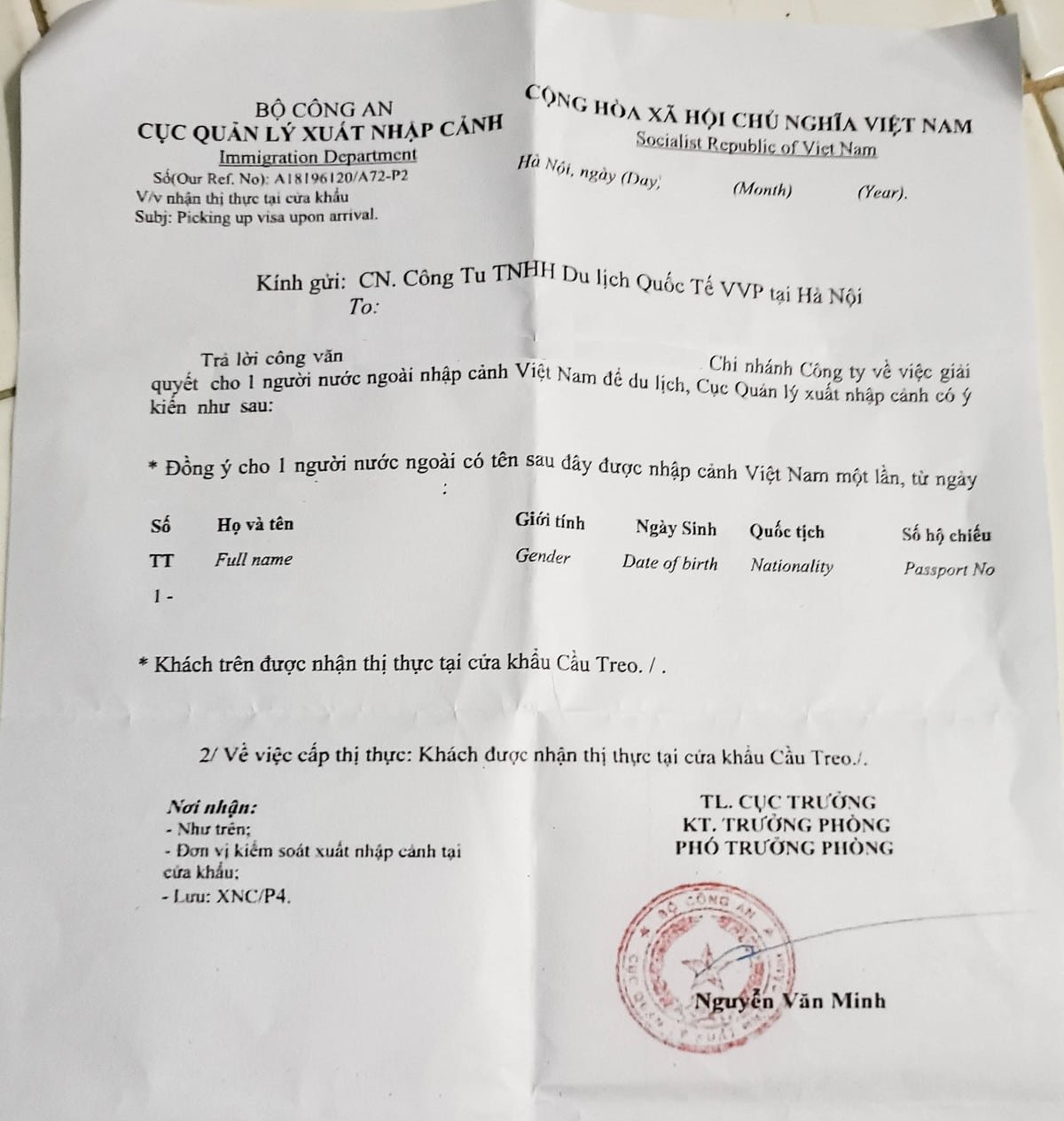 Getting an e-visa to Vietnam through the pilot program might be the cheapest option available but definitely not the most comfortable one. In fact, you have to fill out different forms, prepare your documents and find answers for all the questions (and believe me you will have plenty of them). Moreover, if you have a problem you definitely can't count on the Vietnamese Immigration Office, you will have to solve it yourself.

But here is an easier way to get a visa to Vietnam. You can just apply for the visa through an online visa service. Thanks to that you won't have to worry about anything because they will take care of the whole process and in case there are some complications you can always call them and ask for help. The best example of such a service is iVisa. They offer visas to many different countries, also to Vietnam. On their website, you can immediately check all the requirements for a Vietnamese visa for a person of your nationality and apply easily for the visa online in only a few steps. What's even more important: they have tones of positive reviews on Trustpilot!
Of course, their service is not for free, so if you are a budget traveller it might not be the best solution for you. However, the fees are reasonable and sometimes it just pays off to pay a little bit more in order to keep the travel going smoothly and have no worries during vacation.
---